Sorry, there are no products matching that description.
I Love H2
"THE BIGGEST BREAKTHROUGH IN SPORTS SUPPLEMENTS THIS CENTURY"
Molecular Hydrogen has been studied extensively in Japan for the last decade, but it has only now arrived in the West. With I LOVE
H2 we now have a way to access the training support power of molecular hydrogen as a simple water additive.
Drop one tab of I LOVE H2 into a bottle of water, cap the bottle and wait 5-10 minutes.
I LOVE H2 is offered as a sports supplement. This means we make no claims of therapeutic effect. If you are serious about lifting your sporting performance, we encourage you to do your own research. Gymnast and Biochemist Tyler LeBaron has created an excellent information site at Molecular Foundation and you'll find over 700 scientific studies either complete or in progress.
Molecular Hydrogen is exploding in the scientific community.
How to use I LOVE H2:
Look for either a stainless steel bottle, or a strong glass bottle, or a plastic one. Hydrogen will pass through plastic but not as easily
through glass or stainless steel.
• Drop one or two tabs into a bottle.
• Cap the bottle tightly.
• Wait 5-20 minutes.
• Try to drink all the bottle's contents at one time for max effect.
The smaller the bottle, the more concentrated the molecular hydrogen.
The more concentrated the H2 when taken the better effect.
What's in I LOVE H2?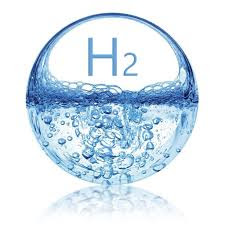 I LOVE H2 is a patent pending all-natural compilation including:
• Malic Acid
• Magnesium
• Magnesium Malate
• Magnesium Fumarate
• Fumic Acid
• Sweetener
Further Molecular Hydrogen Reading:
Molecular Hydrogen: Brief Introduction
Hydrogen Enriched Water: The Elixir of Life
The Actions of Molecular Hydrogen in the Body
Special Note: I LOVE H2 is not a sole source of nutrition and should be consumed in conjunction with a nutritious diet. Not suitable for children under 15 years of age or pregnant women: Should only be used under medical or dietitian supervision.